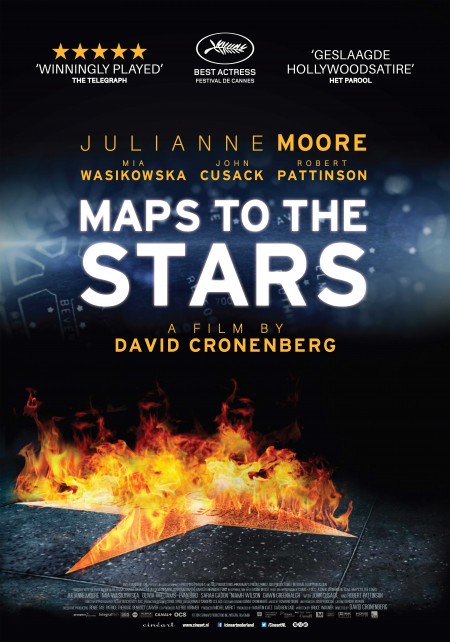 In 'Maps to the Stars' – set for release in the Netherlands on August 28th – director David Cronenberg paints a haunting picture of Hollywood, mocking the glamour associated with Tinseltown. The release of the film coincides with the David Cronenberg Exhibition in EYE Amsterdam and that's why Blendbureaux offers you the chance to learn more about the director's past films by giving away 3 x 2 tickets for the exhibition.
'Maps to the Stars' tells the story of Havana Segrand (Julianne Moore) whose acting career is in a downward spiral. She hopes for a comeback by starring in a remake of a film from the 50s; playing the same role that made her mother a celebrity back then. Meanwhile Havana is being plagued by visions of her deceased mother. To overcome her fears, she seeks treatment from self-help guru Dr. Stafford Weiss (John Cusack). In the meantime her agent finds her a 'personal assistant' in person of Agatha (Mia Wasikowska). Agatha, whose burn scars reveal a dark past, has just arrived in Hollywood. Agatha befriends limousine chauffeur Jerome Fontana (Robert Pattinson) who – like everybody in Hollywood – wishes to be a successful screenwriter or famous actor. This Hollywood satire drives all of its characters to the extreme due to their obsession with fame and wealth. Discover the promising trailer below.
Blendbureaux can give away 3 x 2 tickets for the David Cronenberg Exhibition in EYE Amsterdam, on which we wrote earlier. The exhibition can be visited until September 14th and features, among others, beautiful props from Cronenberg's previous films (such as the telepod from The Fly). More information about the exhibition here. Send an e-mail to info@blend.nl for a chance to win.