24\07\2015
Written by
Blend\Bureaux
'CELEBRATING THE SPIRIT OF YOUTH'

ILOVEFAKE Magazine is a bi-monthly magazine about fashion, art & style. It's about constantly reinventing and always encouraging creativity. The goal is to be a worldwide inspiration guide in the fashion and culture industry.
ILOVEFAKE is made by independent artists and publishers who are looking beyond a conventional method of distribution and production, hence the online format. Upcoming as well as accomplished artists and photographers from all over the globe are represented. They are not afraid to experiment and share a passion with those with a punk rock way of life, or with a Do It Yourself mindset. ILOVEFAKE strives to continually represent a fresh batch of raw talent. We are proud of publishing the ones who dare to break rules.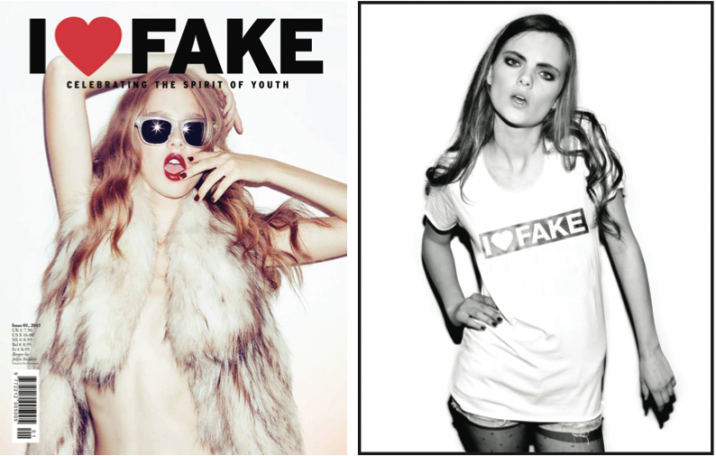 #2ND ISSUE \ ILOVEFAKE
BLEND\BUREAUX is proud to present: the second print edition of I LOVE FAKE magazine! Last Wednesday it was launched at 18 Hewett Street gallery in London, with Gareth Pugh and JamesZoo behind the decks, free beer from Warsteiner and great food by Buen Provecho. Curious about the contents of this more than three-hundred pages thick baby? Check it out after the jump.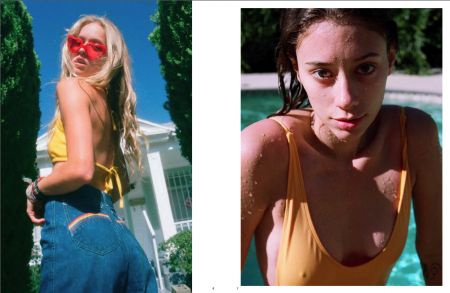 The magazine features work by and interviews with up-and-coming talents as well as renowned artists such as Ed Templeton, Leif Podhajski, Tulsi Maya, Petra Collins, Will Laren, Heather Benjamin and Michal Pudelka. Among the editorials are photographers Meinke Klein, Jolijn Snijders (editor-in-chief), Michael Mayren and Robin de Puy.
#4TH ISSUE \ ILOVEFAKE

ILOVEFAKE #4 was launched on April 11th during a jam-packed event at the hottest new gallery in Amsterdam, Guns & Butter. Guests of the Warsteiner-sponsored launch party enjoyed the sounds of DJ duos Shady Dnaf & Jasper van Oord, Doppelgang and Boris & Boris. The Spring/Summer issue, is all about duos and features editorials with some of the industry's hottest models, including Saint Laurent Paris exclusive Rian van Gend and Holland's freshest faces Annemarie Kuus and Jitte Oerlemans, who grace the cover.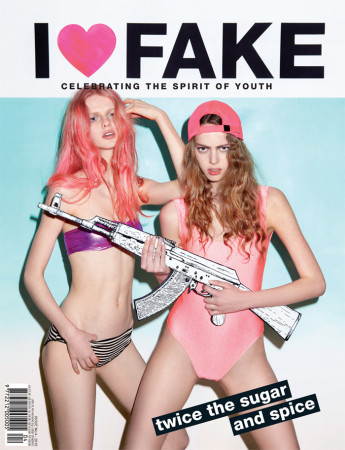 Photographers include Andrew Kuykendall, Balint Barna, Bella Howard, Ben Sullivan, Cecilie Harris, Dasha Love, Emir Eralp, Gavriel Maynard, Greta Ilieva, Jasper Abels, Jolijn Snijders, Kim Jakobsen To, Marley Kate and Sophie van der Perre. The 290-page magazine, weighing over one kilo, also features exclusive interviews with the likes of fashion photographer Akila Berjaoui, furniture designer, photographer and all-round inspiring Ana Kraš, multi-disciplined artist Marc Bijl, collage/photomontage artist Tim Roeloffs and cutting-edge designers Boris Bidjan Saberi, Rhiannon Jones (BOL$HIE) and Alis Pelleschi (one-half of MEAT).


BLEND\BUREAUX X ILOVEFAKE MAGAZINE #4 from BLEND\BUREAUX on Vimeo.


#5TH ISSUE \ ILOVEFAKE

December 2013, I LOVE FAKE Magazine released its 5th issue in the recently opened video arcade TonTon Club.
This fifth issue of the magazine is a punk edition and has a spectacular black-clad cover (designed by Studio Pluriform), which shows its true colors when held under the perfect angle. The release was celebrated in the middle of Amsterdam's Red Light District, in TonTon Club – a place filled with nostalgia in the form of arcade games, alternated with self-developed game projects and 3D printers. But it's also a place to drink, eat and meet. Warsteiner exclusively brought along its Warsteiner Art vending machine, which dispenses six unique and collectable versions of their beer bottles, decorated by a selection of artists.

BLEND\BUREAUX X WARSTEINER X I ILOVE FAKE MAGAZINE X TONTON CLUB from BLEND\BUREAUX on Vimeo.