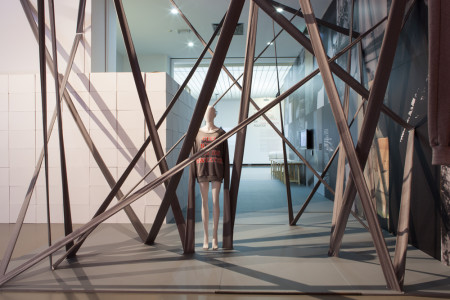 After being exhibited at 'The Future of Fashion is Now' at Museum Booijmans van Beuningen the 'Looong Sleeve' by Antoine Peters is now ready to wear. The sweater is exclusively available for pre-order on TWOL24.com.
The Looong Sleeve is obviously characterized by it long sleeves; more than 130 meters to be precisely. But for everyone's convenience Antoine Peters decided to shorten the sleeves a little bit. It does have extra long sleeves, with thumbholes and exciting little details. The pattern of this unisex sweater is hand drawn by Antoine and the typographic slogan 'Ceci N'est Pas Un Sweater' is embroidered on the best quality of Italian heavy weight cotton. As from today it's possible to pre-order this unique sweater. Once there are 50 pieces in pre-order the sweater will be taken into production. The sweater will be made in Europe and accompanied by a hand signed and numbered certificate.
The Looong Sleeve is created in 2014 as one of Peters many 'space garment' projects. With this projects clothing and the space around it blend together. One of his other space garments is the Wooden Floor Dress, made in 2013. According to Peters these projects enlarge the way he thinks and works. He likes to play with perception and the space around the garment is just as important as the piece of clothing itself. "It's all about interaction and communication" he stated.
Antoine's mission is to enhance optimism in fashion and his universe is about spreading a little smile. He hopes to make fashion and art lovers smile with this unique sweater.
Pre-order the 'Looong Sleeve' now on TWOL24.com.