Fashion
13\07\2012
Written by
Jurriaan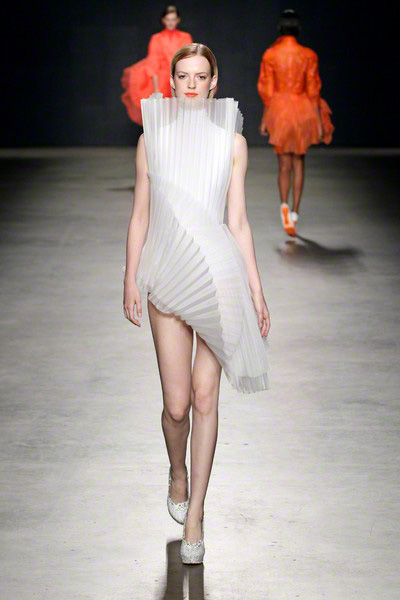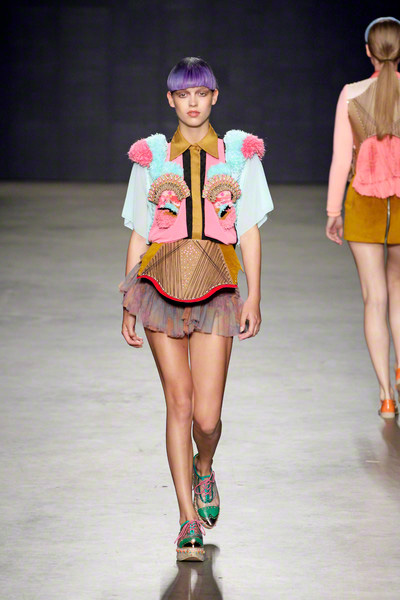 Yesterdayevening G-Star, HTNK & Premsela presented Lichting 2012, the annual show featuring the most talented fashion graduates from every Dutch academy. The lucky winner of the competition, which was judged by members of the audience as well as jury members from abroad, such as Marieke van Dongen, head designer of Raf Simons in Belgium, could win 10,000 euro. We selected our favourites among the 14 graduates that were presented.
Yvonne Kwok (pictured above) was one of the selected AMFI graduates. We already featured her work a short while ago. Her collection We dance like little Mary's swaying to the symphony of destruction is a celebration of colour and texture, and features intricate legpieces, pleated cardboard, frilly pompoms and applications. If you think her work is a little clownesque, you are not that off: the collection was based on a marionet. Kwok wanted to mock the fashion industry a little, because it is sometimes taking itself too seriously. Her collection was not our favourite to be honest, but she did win the 10,000 euro Lichting prize.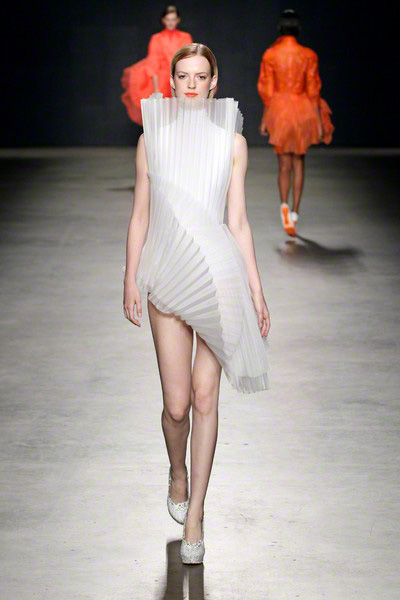 David Laport is a graduate from KABK in Den Haag. His graduate collection Discomforting revolves around discomfort in fashion: shoes too small, dresses too tight, heels too high (Alexander McQueen's shows immediately come to mind) etcetera. Why do women do this to themselves? Laport was influenced by Thorstein Veblen, an American economic and sociologist who is known for his 'Theory of the Leisure Class' (1899), in which Laport read 'discomfort' in fashion was actually en vogue in the late nineteenth century: high collars, supertight corsets. The less comfortable, the higher the status of the wearer. This level of self-restriction is echoed in Laport's collection, which features skirts seemingly blowing up in an awkward way, arms restricted by strangely  shaped sleeves, heads held hostage in stiff high collars..  Yet somehow it remains elegant. A very interesting collection.
Brian Gerardts graduated from the Academy of Fine Arts in Maastricht, and his collection You see the overall of what we are is inspired by volcano eruptions. Yes, did you also chuckle a little while reading this? I guess I really am this immature. Anyway. the collection is revolving around the threatening, dramatic and dark atmosphere surrounding an eruption, translated in rather uncomfortable garments with high necks, high waists and constricted coats. Heavy materials such as wool and velvet emphasize this heavy atmosphere (literally and figuratively). The volcano is also present in the pastel-like prints on several garments. A little small fact: the idea for this collection was born out of anger.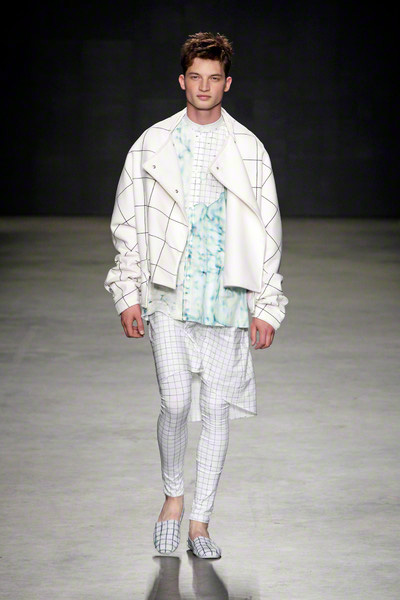 Poul Brouwer hailing from Rietveld Academy in Amsterdam presented a very graphic collection featuring black and white patterns and washed watercolours. The collection is based on shame, more particularly the shame Brouwers felt when flipping through an old photo album from his childhood, reliving shameful moments of secretly playing and listening to his mother's Spice Girls album, feeling his interests were not the standard and somehow feeling embarrassed about this. In a way he he feels shame is about covering up one's true identity, therefore losing one's real or true identity. One of the best menswear collections we saw at Lichting.
Esther Kruyer from Artez in Arnhem presented her collection Triple featuring Balenciaga-esque neoprene fabrics combined with glittery metallics. Legs were covered in sheer tights with crystals applied, inspired by the over-the-top ice skating outfits. Nude and neon colour blocking was derived from gymnastic leotards. All of these ingredients could have easily made for a bad collection, but somehow it works really well.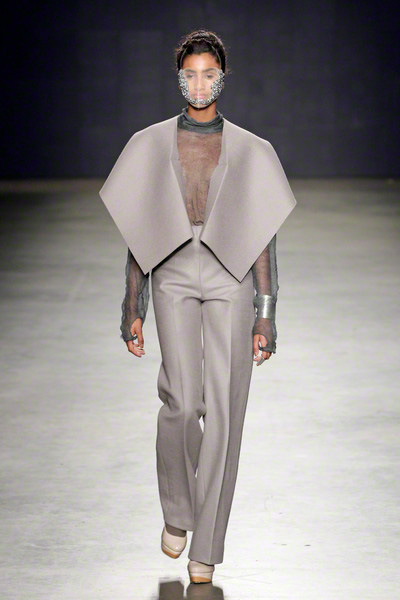 Ilona Putkaradze from Willem de Kooning Academy in Rotterdam has created a real winner with her collection From sculpture to body. The garments made of sturdy wool and felt combined with soft and sheer fabrics as well as beautiful robot-inspired masks were a response to the sculpture of Jacques Lipchitz. With fabrics in various greys and variaties in shiny and hard fabrics Putkaradze made a beautiful translation of Lipchitz steel and stone works.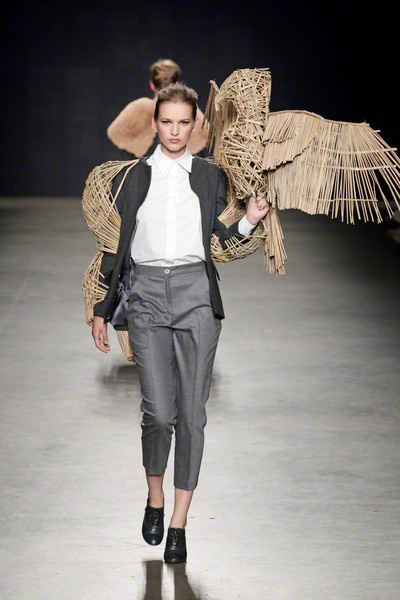 Judith van Vliet from Utrecht showed a very intricate fusion between fabric and cane sculptures and installations. Her collection The Western Uniformity is about having to live up to certain standards to be fit in today's society. Rejection and social isolation are feared and therefore everyone tends to walk in line, refraining from standing out. This Western uniform is translated literally by Van Vliet in cane constrictions around the model's bodies, confining their movements.
Tess van Zalinge is our favourite AMFI graduate, her lingerie collection The same old lines, the same old stories of breathless strains and worn down glories was so incredibly well made. All the garments are so well-fitted, and she even made two collections in virgin white and technicolour. She chose to show the latter at the evening of Lichting. The concept of her collection is about a longing for a dream identity. Because she felt there were too many options and unlimited possibilities she realised she did not want careless decisions, but guidance.
Photos by Team Peter Stigter
Info on David Laport via Beelddragers