Fashion
12\02\2015
Written by
Daan Rombaut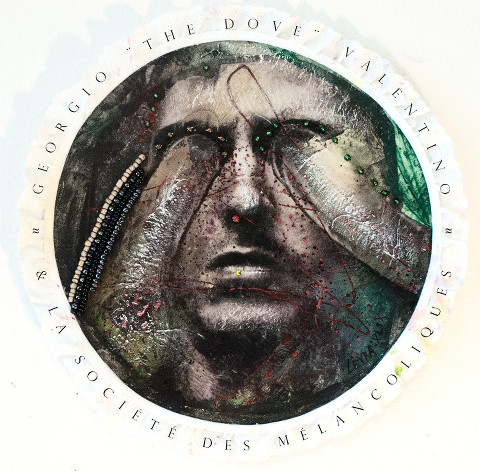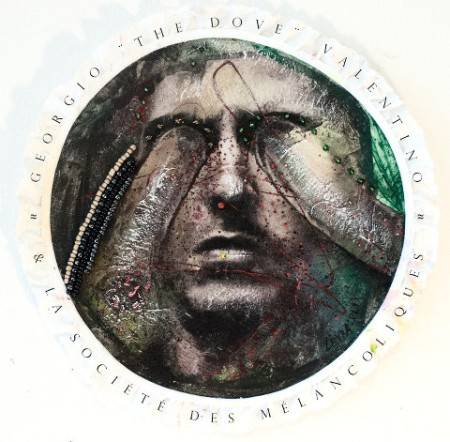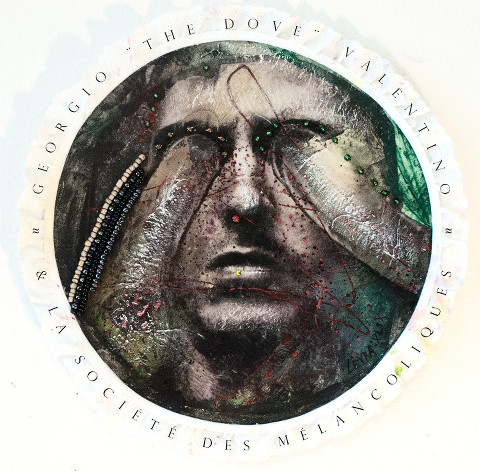 Brussels based and Florida born musician Georgio 'The Dove' Valentino released a new LP. Writing a review about The Dove's music is not an easy task as his songs aren't easily contained in one word, sentence or even paragraph – just like the life story of the guitarist/singer/journalist/art critic whose magnetic personality and avantgardist music drenches its listeners in a dark alternative universe in which H.P. Lovecraft, Edgar Allen Poe, William S. Burroughs or Hansi Rüdi Giger would thrive. The artist himself however prefers to refer to more obscure names as Martin Gore, Bobby Beausoleil, Joe Meek, Michel Foucault, Stefan Georg, and the satanic minister Steven Johnson Leyba. This last one is also responsible for the artwork of the Mille Plateaux LP. Each of the images features a hypnotic insight into the dark underworld, a phantasmagoric surreal representation of Georgio 'The Dove' Valentino and Chuck Berry.
Reviewing an album by The Dove isn't an easy task as it requires multiple listening sessions (gradually more than with other musicians) to get a decent overview of the deserted soundscapes he creates with his guitar and eroticising, spooky voice. The Dove is more than a musician as his activities meander from song and dance along performance art, belle lettres and goes beyond the boundaries of soundtrack, Krautrock, country and western, surf, lo-fi and avant-garde. The result is an experimental, esoteric sound in a structured chaos where calm moments are juxtaposed with post-apocalyptic explosions of musical violence.
The first side of the LP is swinging and dark, but also features tangos and waltzes, supported by The Dove's warm crooning. 'Don't Do Me Any Favors' is a charming highlight. This first side comes to an end with the instrumental 'Mille Plateaux'. Turning the LP, we find a 17 minute hommage to Chuck Berry with 'I Won't Betray You'. The third side of the LP returns to the spirit of the first side with the beautiful 'I Wish We Were Insects' and 'Bête Noir' which features a slow build-up until the percussion enters the game along with a hefty trumpet. The final side is something completely else because The Dove covers songs by Italian singer Piero Ciampi with an 'Il Dovo' approach: sanguinary, playful, skulking and impressionist.
All in all, Mille Plateaux is an original, often upsetting piece of music for almost 90 minutes of listening pleasure.